Project: Farr 280 Sales & Marketing
Duration: August 2014 – Ongoing
Activate is the sole UK agent for the new award winning Farr 280 Grand Prix One Design Racing Sailboat. After a series of successful demo sails, this exciting new boat is making waves in the top yachting circles and has received much praise and positive interest from industry experts and elite professional sailors worldwide. Working with Farr Yacht Sales, our aim is to bring a long awaited new grand prix one design to the UK and Europe, which everyone will want to be a part of.
ABOUT
The Farr 280 is a new production racing yacht from Farr Yacht Design. This compact and innovative sailboat offers high quality, first class design features and is set to bring exhilarating grand prix inshore racing to the under 30 foot sailing arena. The Farr 280 is quick both upwind and downwind and can be handled by 5-6 crew with ease.
AWARDS
The Farr 280 has attracted much media interest and positive press reviews including two prestigious awards from Sailing World and Yachts and Yachting Magazine.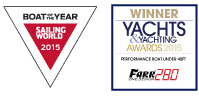 NEWS
Click here to sign up for our Farr 280 E-Newsletter >>
DOWNLOADS
Farr 280 UK Events Calendar 2015 >>