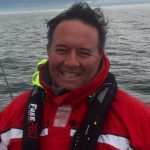 Specialists in marine sales & marketing, communication and activation.
Based in the UK, Activate has been set up by Joe Hall who has run his own marketing businesses for over thirty years. Joe is a motivated and creative marketeer, who enjoys challenging communication tasks.
Activate's  employs a team of diverse specialists involved in design, marketing and sponsorship. This team of professionals can be deployed individually or come together collectively to deliver relevant solutions for our clients.
Activate is currently engaged in sales and marketing of High Performance race boats for the HP30 Class as well as running the annual programme of events.  The company also provides design and event management services to a number of important UK & international marine events, including the Rolex Fastnet Race and Cowes Week.
Based on your needs, we will provide you with a detailed plan, including team members, methods, budgets and timescales. We are happy to work on projects large or small, full or part-time and we can expand and contract the size of your team as required.
We are extremely flexible and will do everything we can to meet your objectives.
Our promise to you: Your project is in safe experienced hands. We treat it with intelligence and respect. We constantly reflect your message and principles. We work tirelessly to ensure success. We exceed your expectations. We activate your ideas.